Students at All Hallows Catholic Primary School Five Dock have been creating short films as a way to build technological skills and better understand complex topics such as cyber bullying and self-esteem.
Entries in Catholic Schools Performing Arts' 'Battle of the Artz' (BOA) video competition closed at the end of last week, but All Hallows students had been at work on their entries for months, assisted by e-Learning experts.
Students said creating videos for the competition and as part of regular classwork offers them the chance to uncover new apps, build their skills using complex technology and investigate concepts in fresh ways.
"Making videos is a creative way of expressing our opinion on a topic"
'This year's BOA theme is 'diversity', so what we're trying to show that whatever culture or race you are, you can feel involved,' said Year 6 student Archie.
'My group already decided on having one person being the interviewer,' said classmate Isabella, 'and interviewing us about how each person in our group is different and diverse.'
'Making videos is a creative way of expressing our opinion on a topic – it's not just writing something down and then the teacher's reading it, it's something different.'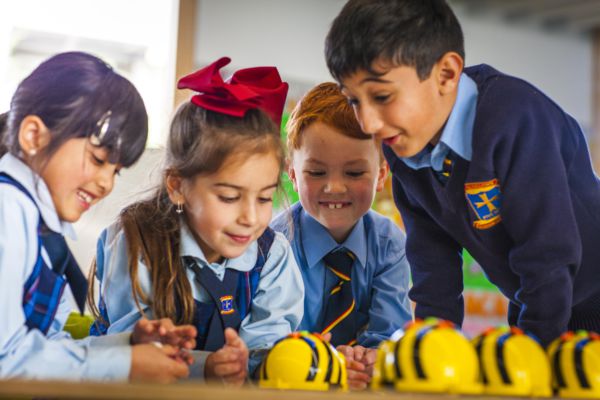 Videos are just one way teachers at All Hallows incorporate technology into their lessons, which follow the new Science and Technology curriculum launched at the beginning of 2019. The school plans to roll out even more in-depth coding and robotics programs over the next few months.
Stage 3 Teacher Lauredana Pollifrone said staff have been grateful for the support available to them as part of the system of Sydney Catholic Schools, particularly the ability to borrow specialist equipment like green screens and the support of Regional e-Learning Leader Scott Hansen.
'Teachers are still getting their heads around how we can incorporate technology in a bigger way using robotics and coding,' she said. 'It's quite difficult for some staff, so it's good to have that expertise – to see how we can get our kids ready for the future.'