All Hallows Catholic Primary Five Dock students will have water views and greater flexibility for learning when a development to maximise the school's classroom and community spaces is complete.
The project will replace a single-storey building on the school's north side with a partially two-storey space that will house the school office, administration and Years 5 and 6 learning areas. The library will gain a 'maker space' for STEM [Science, Technology, Engineering and Mathematics] activities.
Architects sought student feedback to determine the elements their plans should include, giving students a map of the school and asking them to identify what areas they liked and felt safe in.
New ideas are only created if we ask, listen and are stimulated by others' thoughts
The new building will include a blue and green colour scheme based on elements of nature, flexible furnishings, an interactive TV, and shared spaces for prayer and reflection.
Stage one of the project will be complete in early 2019, the school's centenary year.
The school library and parish hall have become classrooms for students in Years 1 and 3 while the building works are completed. Year 3 students call the parish hall area 'paradise' because of greenery from the disused community garden at the back of the building.
Inside, teachers have become more collaborative in their approach to delivering core learning. Principal Helen Elliott said it was important teachers modelled the collaborative skills that are part of the curriculum in all subjects.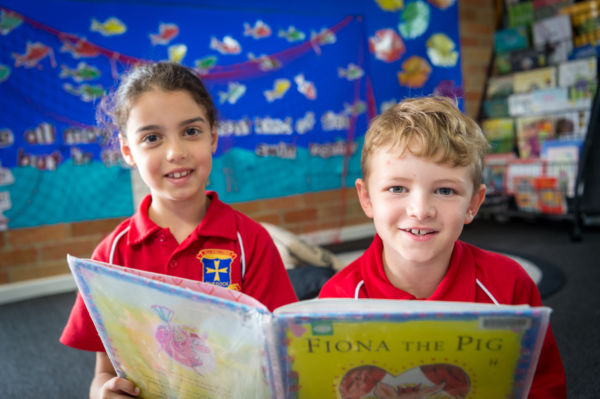 'It is critical because when students eventually go into the workforce, they are the skills that are in demand – to be able to be creative, collaborative, good communicators, and to come up with new ideas. New ideas are only created if we ask, listen and are stimulated by others' thoughts.'
'I see the teachers be very smart in the way they are educating the children, using their time really well to streamline the process. It has also encouraged streaming in terms of student ability, and teachers are becoming experts in particular areas of the curriculum.'
A new hall will give the school's many lunchtime clubs – including dance, coding, robotics and gardening and a student newspaper – another space to thrive.
Mrs Elliott said it was exciting to see the project come alive. 'The Stage 3 students will have beautiful views of the water,' she said. 'There are a lot of trees around the Year 3 rooms and when students look outside they're at just the right height to see the canopy of the trees. Our teachers say the students are calmer working in those spaces than between brick walls without much of a view.'
The redevelopment is a response to growing enrolment demand, fuelled partly by families embracing apartment living.
The article was originally published on About Catholic Schools on 14 June 2018.